TCPWedge®
TCP/IP Network Device
Data Collection Software
TCPWedge is a branch of the WinWedge suite of applications that is specifically designed to collect data from networked devices.
Includes all the advanced features of WinWedge Professional
Connect to any device over a network or the Internet
Available only as part of the WinWedge Professional package
---
The feature set of TCPWedge is nearly identical to WinWedge Professional. The key difference: instead of configuring a COM port, TCPWedge allows for the selection of an IP address and port number - in both Client and Server modes.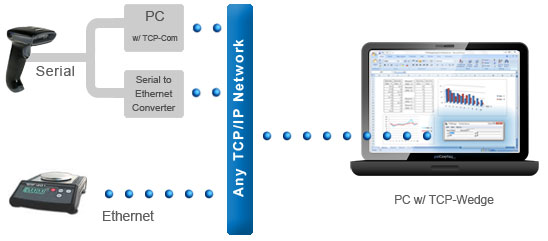 TCPWedge supports powerful DDE capabilities to allow the user to set up sophisticated data collection and device control interfaces with DDE-capable applications (such as MS Excel or Access) over TCP/IP networks.
TCPWedge fully supports 2 way I/O (input/output). You can easily receive data from, or transmit commands and data to, any IP address directly from within any Windows application.
Do you have RS232 devices connected to your IP network with TCP/Com or a terminal server? Then use TCPWedge software to input the data from those RS232 devices anywhere in your facility directly into any Windows application program or web page. Networked data will appear as local data to your existing Windows applications such as Excel.
TCPWedge has many powerful features to parse, filter, format and translate networked data so that it appears exactly as you need it in any application program. The set-up steps are very simple with TCPWedge's "walk-though" menus. TALtech also provides free and unlimited support.