Balance Interface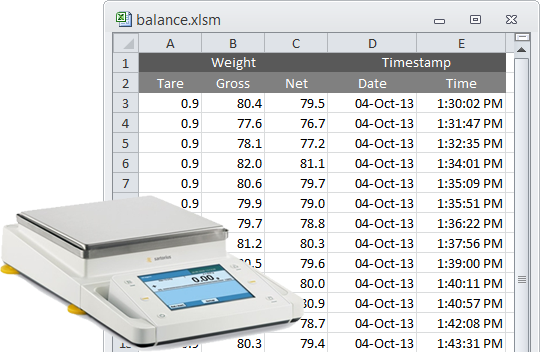 Logging data from a scale or balance is a common utilization of WinWedge. Shown above is a sample Excel file filled with readings collected by WinWedge.
WinWedge is designed to be a flexible and versatile data acquisition tool. As such, it can interface with many different types of scales. In fact, many manufacturers of analytical balances, precision balances and truck scales recommend our software for capturing weight information into a Windows PC. It can even interface with Serial, USB*, Bluetooth*, and TCP/IP devices (the latter requires WinWedge Pro suite with TCPWedge).
Balances can capture a variety of information. Some may capture just the weight reading with a unit. Others may include the gross, tare and more specific readings. WinWedge is able to parse that information and only log the data that's relevant to you. If you are using Excel, you can utilize Excel's graphing and charting tools to visualize the data in real-time or in reports. WinWedge can separate the data into different columns and strip the unit of measurement from each reading.
Our support staff is very familiar with using WinWedge to collect data from balances into any Windows application, especially Microsoft Excel. If you need any assistance determining if WinWedge is right for you or setting up WinWedge to collect data from your balance, we're here to help so don't hesitate to contact us!
* USB and Bluetooth devices require COM Port Emulation drivers.