HID-ScaleWedge®
USB-HID Scale Data

to Any Windows Application
HID-ScaleWedge® inputs weight data from USB connected parcel scales directly into Excel, Access, inventory applications, accounting programs, any Windows application or any web page.
NOTE:
For laboratory balances, truck scales, counting scales, digital weight indicators, industrial load cells, and ALL other USB and RS232 serial output scales (and other devices), the
WinWedge Software
is the perfect data collection solution.
HID-ScaleWedge® is ONLY for parcel scales that use the USB-HID Scale interface. Parcel and postage scales supported include Dyno, Fairbanks, Stamps.com, Pelouze, Accutek, and Onyx.*
*For details on the USB Human Interface Device class (USB-HID) specification, see: https://en.m.wikipedia.org/wiki/USB_human_interface_device_class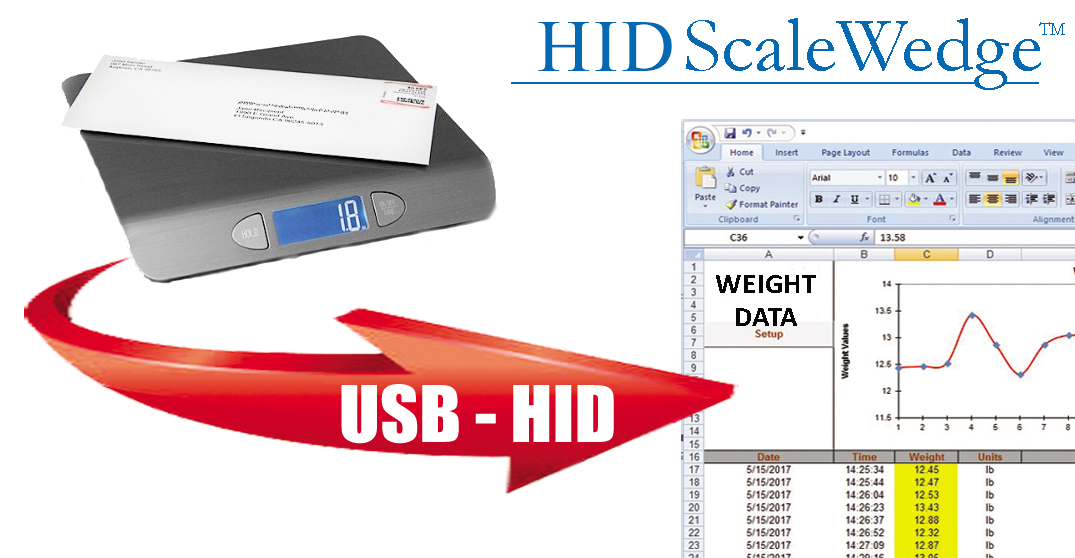 Eliminate Keystrokes
Save Time
Eliminate Errors
Easy Set Up:
1) Select scale from those attached to your PC

2) Select your "Hot Key". When you hit this "Hot Key" (F9 shown in sample screen shot below) the weight data is transferred to your Windows application or web page at the cursor. HID Scale-Wedge also has the option to automatically add keystrokes before or after your weight data to move the cursor automatically for you.

The next option (also see screen shot above) is to select the format that you would like for your weight data when it populates your destination application.

Then click "OK" and your weight data will automatically populate Excel, Access or any Windows application that has the input focus when you hit your "hot key" (i.e. F9 in this example).
Simple and Intuitive USB Scale Data Collection
Inputs data from any USB HID scale.
Simple one minute set-up.
100% accurate and 100% reliable.
Adds keystrokes, as required before or after your weight, to automate data entry.
Fully compatible with any Windows PC or laptop.
Low cost, only $99 for a single license.
FREE SUPPORT
Free 30 Day HID-ScaleWedge® Evaluation Version
Download and set up in a couple of minutes.
Eliminate manual weight data entry for ever.
Specifications
HID-ScaleWedge® works with any USB connected scale that adheres to the HID human interface device class (HID class) specification. For technical details, see: https://en.m.wikipedia.org/wiki/USB_human_interface_device_class
For example, many simple USB connected parcel scales adhere to this specification. (Note: Most laboratory balances, industrial scales and checkweighers do not adhere to this specification and instead use either a RS232 or TCP/IP interface. For these types of scales, our WinWedge software would be a more appropriate tool.)
It will work with all 32 or 64 bitversions of Windows from Windows Vista and newer (including Windows 10). It is not compatible with Windows 95 or XP.