Normally Windows will not allow two or more serial communications programs to open the same serial port at the same time. You can overcome this restriction by using TCP/Com to feed data from a physical RS232 serial port to multiple "Virtual" serial ports. Each program can open it's own virtual serial port but still communicate with the same physical serial device.
Use TCP-Com to feed data from one physical RS232 port to multiple RS232 serial communications programs.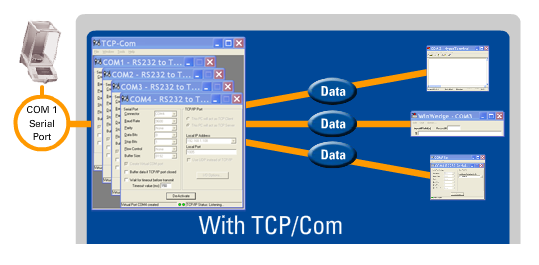 If you have an RS232 device connected to a com port on your Windows PC you can only connect to that com port with one software application. If you need to communicate with that device from 2 Windows applications you would have to use a "splitter cable" to make the RS232 data come in on 2 separate com ports. This would also require you to purchase another com port.
To bypass this limitation, TCP/Com is designed to make the RS232 device data on the one com port apprear on as many virtual com ports as you need. In this way TCP/Com acts as Virtual Serial Splitter, or "Y", Cable and allows all your Windows serial communications applications to access a device on just one com port! See diagram, above, for how it works.