Microsoft Word Add-Ins
---
A Powerful Barcode Labeling System: B-Coder Pro & Word
Many of our clients already use Microsoft Word for creating documents and labels. To make generating barcodes on these labels easy and intuitive, B-Coder Professional has several Word Add-Ins that integrate with these advanced labeling and mail merge features of Word. This enables you to: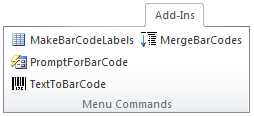 Instantly convert text to a barcode
Automate high quantity barcode labeling
Merge data from Excel into barcode labels
Auto-increment barcode numbers on labels
and more...
---
TextToBarCode
Highlight any text on your word document and click TextToBarCode to instantly convert the selected text into a barcode - with the precise parameters configured in the main B-Coder window.
PromptForBarCode
Click or run PromptForBarCode to type in the barcode message in a user prompt. The barcode is generated and pasted to the location of your cursor.
MakeBarCodeLabels
MakeBarCodeLabels uses the built-in features and printable label template database of Word to quickly generate high volume labels, optionally automatically incrementing the barcode value.
MergeBarCodes
MergeBarCodes provides barcode functionality to the powerful Word Mail-Merge feature. Use data from pre-existing Excel spreadsheet or csv file, place columns onto the labels, and automatically generate one or multiple barcodes on each label.
These Word Add-ins are available for both B-Coder Pro and Barcode ActiveX.