B-Coder®
Barcode Creation Software for
Professional High Quality Barcodes
B-Coder is a Windows-based software will allow you to easily generate professional barcode graphic files and insert them into any Word document, label software, graphics application and more. There is full support for most standard barcode types used in a variety of industries.
B-Coder Pro 4.3 with QR-Code just released! B-Coder Pro now supports one of the most popular 2D barcode standards: QR-Code. Try the demo today!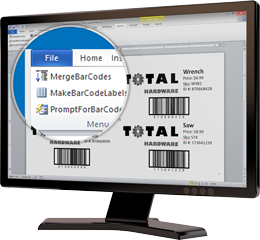 B-Coder's intuitive layout lets you create and customize your perfect barcode, quickly and easily. Select from an array of common (and even many uncommon) symbologies to create professional UPC barcodes for retail, store inventory, health industry, and even large 2-D barcodes for storing URLs or data on marketing materials! Simply enter a message, click your mouse and your barcodes are instantly displayed on screen and copied to the clipboard for pasting into other programs. You can also save barcode images to disk files in any image file format.
B-Coder also makes it very easy to generate barcodes directly from within Microsoft Word (shown on the right)! Automate barcode labeling and production with the included macros. Lean more.

Easy to Use
B-Coder automatically calculates check digits, parameters, displays a preview and copies the barcode to the clipboard!

Flexible Customization
The power to select advanced parameters with the freedom to chose your own size, colors, and fonts!

Professional Quality
Choose from many professional-grade barcode types for your personal, professional, or industrial application.

Printer-Friendly & Readable
Print directly to any printer and set printer-friendly options to help ensure all your barcodes are 100% readable.
There are two versions of B-Coder available. The Lite version enables you to create 1D Linear barcodes, customize the look, paste the barcodes into other applications, and save them as a graphic file. Upgrade to the Pro version and you'll receive all Linear and 2D Matrix barcodes including Code 128 and Data Matrix, more Graphic file choices such as jpg and png, advanced DDE integration bundled with our powerful barcode production Add-Ins for Microsoft Word. Check out the feature comparison page to learn more about the different features available in both.
---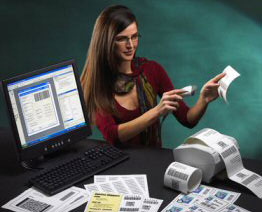 B-Coder can generate many barcode types, including...
UPC-A, UPC-E
EAN-8, EAN-13
Code 128
QR-Code (new in 4.3)
GS1 DataBar (RSS-14)
PDF417
Data Matrix
B-Coder Professional is fully compatible with all of the latest Windows operating systems.