Using the Control
Easily use and customize the Barcode ActiveX control in any ActiveX compatible application.
Simply insert the Barcode ActiveX Control into your application and specify a few properties in the properties window shown below and your desired barcodes will be generated automatically.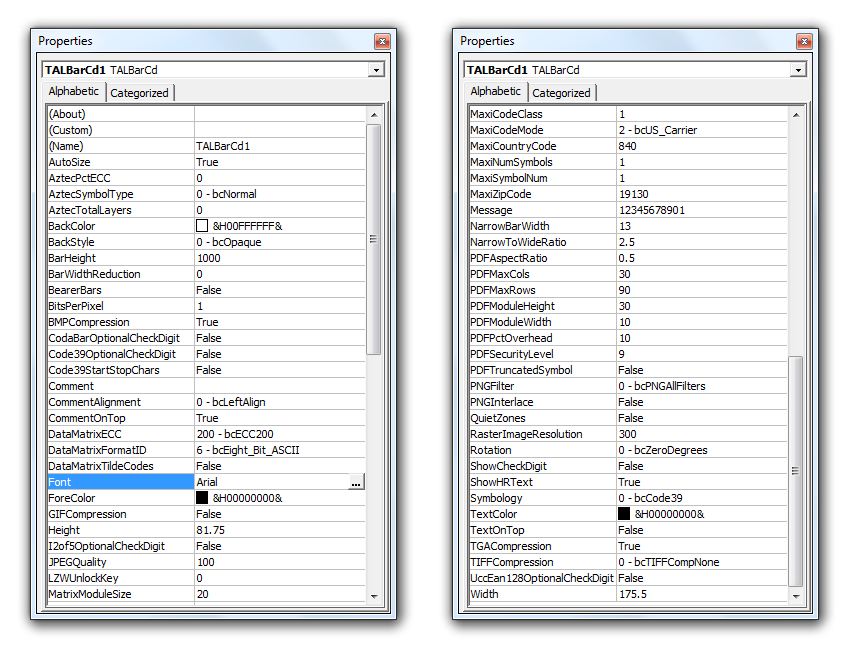 The TALtech Barcode ActiveX Control also supports data binding so you can bind fields in a database to the control and generate barcodes for each data record automatically. The data binding capability makes it trivially easy to produce reports and labels containing barcodes using any database that supports ActiveX technology including Microsoft Access or Visual Basic.
The control is also fully scriptable in Internet Explorer using VB Script or JavaScript making it extremely easy to create web pages containing high quality, high resolution barcodes.
Note for Developers
If you are a developer and plan to distribute the control with your application, you will be happy to know that the total uncompressed size of all the files that you need to distribute with your application is less than 500Kb. The compressed size is typically less than 200Kb. In fact, only four small files are required to be installed in order to provide complete support for all of the different types of barcodes supported by the TAL Barcode ActiveX Control. The control was developed using the Microsoft Active Template Library (ATL) therefore there are no additional runtime dependencies (i.e. MFC Class Libraries or Visual Basic Runtimes). Code signed Internet CAB files are also provided for easy automatic distribution in any web based application.
Note: Some of our customers confuse our Barcode DLLs with our Barcode ActiveX control. The TALtech Barcode DLLs are a completely separate product and are therefore not required in order to use the ActiveX control. The Barcode ActiveX control is a stand alone component that requires no additional libraries.
Sample Code
To make it even easier to add bar coding capabilities to your applications, we provide you with sample Access, Visual Basic, MS and Borland C++, Delphi, Excel, Word, Internet Explorer, CGI/Perl and Active Server Page (ASP) examples that show how to use the Barcode ActiveX Control. We also provide free and unlimited technical support.